Description
Garlic Butter Baked Salmon
The salmon recipe of your dreams! A complete meal on one pan full of flavor. Garlic Butter Baked Salmon is easy to make using minimal ingredients you already have in your kitchen! Not only that, the bonus of having only one pan to wash and no mess in your kitchen to clean up when you're done.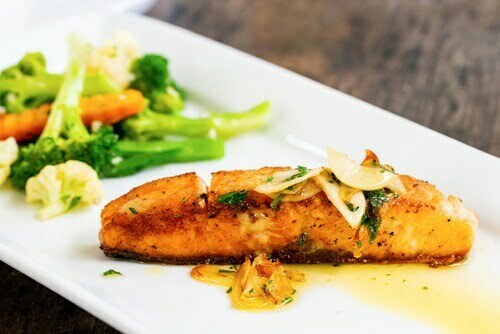 One pound (500 g) fingerling potatoes, halved (or Yukon golds or halved white/red baby potatoes)

Two tablespoons olive oil

One and a half teaspoons salt, divided

Half teaspoon cracked black pepper, divided

Four (6 oz | 170 g) skinless salmon fillets

Two and a half tablespoons minced garlic, divided

Two tablespoons fresh chopped parsley

One-third cup freshly squeezed lemon juice

Half cup melted unsalted butter

Three bunches asparagus, (18 spears, woody ends removed)

Two tablespoons dry white wine (substitute with 1/4 cup low-sodium chicken broth)

One lemon sliced to garnish
Heat oven to 400°F | 200°C. On a large rimmed baking sheet, toss together potatoes with the oil, 1/2 tablespoon of garlic, 1/2 teaspoon salt, and 1/4 teaspoon pepper.

Spread out in an even layer and roast for 15 minutes until they're just starting to soften and brown.

Push potatoes to one side of the sheet pan and arrange salmon down the center.

Rub salmon evenly with 1 1/2 tablespoons of minced garlic and 2 tablespoons of parsley.

Add the asparagus to the other side of the pan.

Combine 1/4 cup of lemon juice and 1/4 cup of the melted butter together and pour the mixture over the salmon and asparagus.

Season everything with the remaining salt and pepper.

Return to the oven and continue baking until the potatoes are golden and fork-tender and the salmon is opaque throughout, (about 10 minutes). Optional: broil in the last 2 minutes for charred edges.

Meanwhile, in a small bowl, combine the remaining butter, garlic, and lemon juice with the wine (or chicken stock).

Serve with the salmon, veggies, and lemon slices!